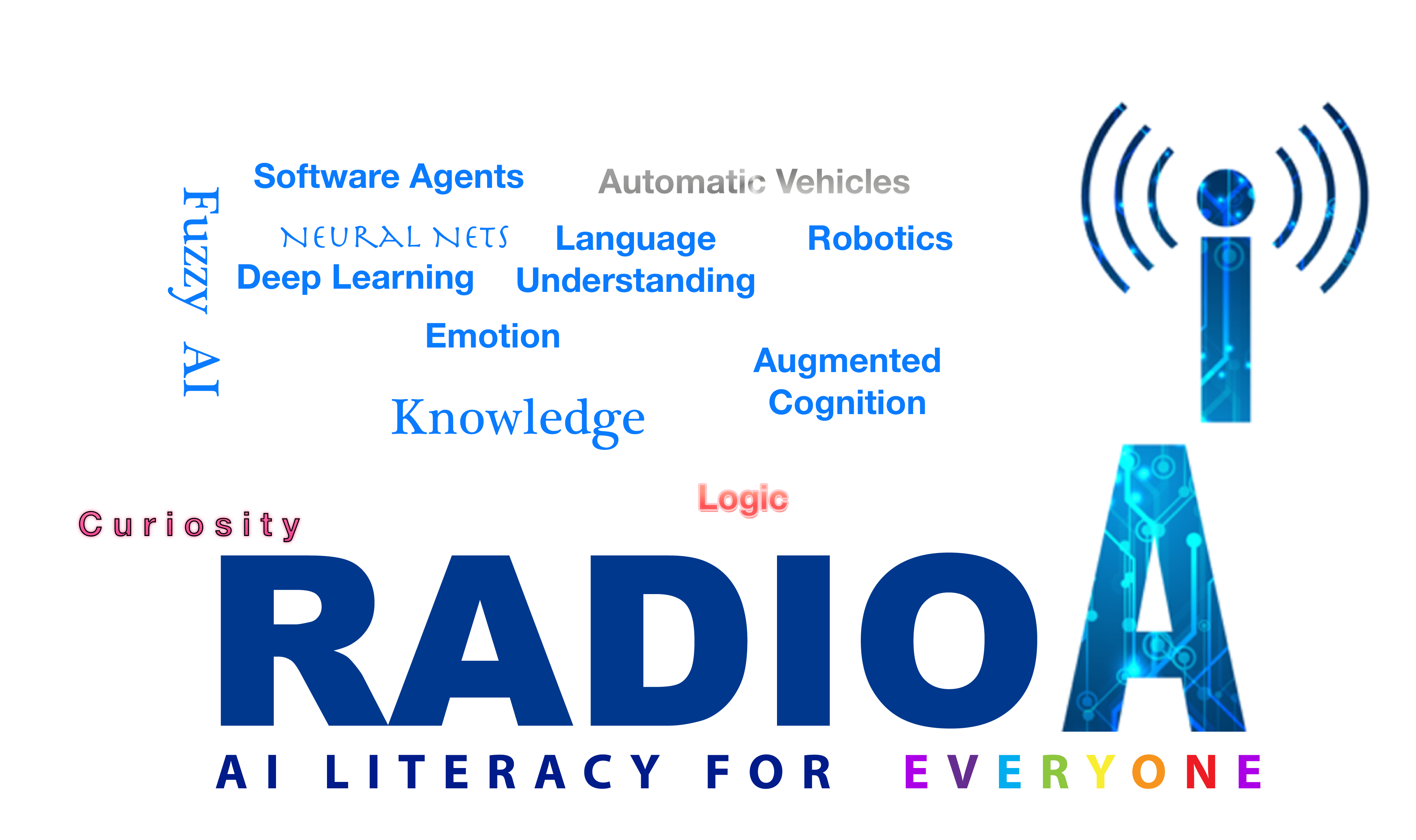 Podcasts - These download so give it a minute.



#1 UNDERSEA ROBOTS WORKING TO HELP BUILD SUSTAINABLE ENVIRONMENT!
Listen to Undersea Robotics Researcher, Hans Thomas, from the Monterey Bay Research Aquarium Institute, while he's at sea with his team of robots exploring the sea floor to reuse old cables for new kinds energy.





#2 ROBOTS - WHAT ARE THEY?
by Cindy Mason, UC Berkeley, Stanford, Academic mentee of John McCarthy, father of AI.

Compassionate Artificial Intelligence
#3 GIVING ROBOTS COMPASSION PART I - INSECT ROBOTS and NASA
by Cindy Mason, UC Berkeley, Stanford

#4 GIVING ROBOTS COMPASSION Part II - WHAT'S LOVE GOT TO DO WITH IT?
by Cindy Mason, UC Berkeley, Stanford

Machine Learning
#5 Machine Learning - The Key Things You Need to Know! by Henry Lieberman, MIT , 2018 ACM Impact Award Intelligent User Interaction



Note: The full collection of podcasts will return soon. Look forward to our companion book, The Radio AI Lectures, expected out later this year.

For the Public - The RadioAI Guide - HOW TO USE THIS SITE
Because AI is predicted to transform our world, we thought you might want to know a little more about it. Our RADIO AI podcasts offer great elementary AI education in short, fun and easy to understand sections. So Welcome to RADIO AI! The podcasts are a great resource where people with all different ages and backgrounds can learn about Artificial Intelligence (AI). You can get started by listening to the first podcast 'Robots - What are They?' If you prefer to read an ebook, there will be a companion text coming out soon, and we will be announcing that here and other places. Each RADIO AI podcast covers one core topic in Artificial Intelligence(AI) ranging from 'What's a Robot?' to 'Machine Learning' and even 'Compassionate Artificial Intelligence'. The lectures are all given by carefully chosen AI experts who not only know a lot about AI but who also have a love of of people and of teaching. We answer questions on AI subjects like software robots or "agents" that help people in some way (think Siri, Alexa, etc.) and what does it mean to program AI or debug AI? The idea is by listening, you will be informed enough about AI to ask good questions of people at your banks, medical facilities and other places, where they use AI - now and in the future. Our goal is to reach a wide audience including business people, moms, students and teens - anyone that wants to know more about AI...but doesn't have time to take a class. Everyone's listening to podcasts! So enjoy the RADIO AI podcasts and come away with fun and interesting facts on the A-B-C's of AI and adventurous AI - robots that explore the sea, the south pole or outer space.


A bit more: AI is a bit trendy in the press right now. You hear a lot about machine learning and robots. AI is much more than machine learning and robots. It includes brain science, emotion and thinking about knowledge. It also includes other fields like human science, psychology and cognitive models about human thought, memory, vision, speech, touch and smell and movement. AI also includes ethics, computer programming, and Spock (logic). It can be about engineering - building a real system or it can be about building a model of consciousness. Right now as you read this, there are many people working on AI. Some of them are famous, some of them you have never heard of but they're all doing something

interesting

! Let's hear what some of them have to say.

In addition to the podcasts below we have included an

info page

with a few facts and figures about AI.


The Radio AI Lectures have been completed and we are no longer accepting new lectures. If you would like to share some of your AI wisdom for the next collection please get in touch with us at contact@radioai.net or cindymason@media.mit.edu
For Authors - Click Here

There are no cookies or advertising on this site.